Access to Justice for the Victims of Sexual Violence
NSRLP
The disclosures of the last five weeks have been extraordinary.
Not because it comes as any surprise to me (or to most other women) that there are powerful men who think they can impose themselves on women, often multiple women – physically, sexually, verbally – and who believe they will never be checked for their bad behavior.  This is part of almost all women's lives.
But now, suddenly, there is a feeling that people are listening. Not just listening to ridicule and undermine, but listening to understand, listening with belief, and wanting to take action. This doesn't mean "case closed" – it just means that it is possible to hope for an investigation, perhaps an adjudication, and a just and safe outcome.
Sexual violence is an Access to Justice issue.
For thousands of years, women have been harassed, assaulted and raped by men with impunity. Even when we finally developed some legal rules and procedures to address this in the 20th century, they didn't work.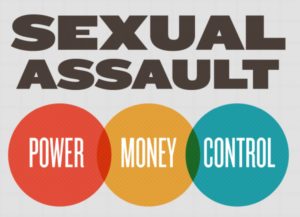 The criminal justice process does not protect women
The criminal justice process does not provide justice in cases of sexual assault and rape.
Look at the statistics on reporting sexual violence to police (fewer than 10%). This is easy to understand if you remember the painful collapse of the Ghomeshi trial amidst the hounding of victims as "liars" and "odd" when they failed to accurately recall tiny details of a years-old trauma.
Look at the offensive and just plain bone-headed comments made by numerous members of the judiciary presiding over such trials, their complete lack of knowledge of the dynamics of sexual violence, and how the legal establishment rushes to defend them.
Rich predators can afford "expert" counsel who exploit the trial process to humiliate victims. Victims rely on a ludicrously under-resourced public prosecution service.
Every day in Canada, many women who believe it should be possible to obtain police protection against violent men find the response to their call for help unhelpful, or worse. Most women are dismissed or discouraged – told to call back, or told that someone will call them back; often no one does. Many women who braced themselves to make that first call for help cannot face the prospect of repeating a traumatic story, over and over.
Those who struggle on may eventually get an interview with a police officer (often untrained in interviewing victims of sexual violence). Then they wait. Waiting for action is especially difficult when you are frightened, anxious, and need to protect yourself.
In a fraction of cases, charges will be pressed. This means more waiting, more interviews, requests for more information. If the case goes to trial, it is likely that the complainant will meet the Crown assigned to her case just hours or even minutes before the trial.
Then there is what happens at trial. I have colleagues who tell me earnestly that Marie Henein did "exactly what a good defence lawyer should do" in the Ghomeshi trial, and that her cross-examination of the complainants was not "witness-whacking". But let's cut to the chase – there is no genuine A2J where complainants have to be part of a process that is completely uninformed by any knowledge of the trauma of sexual assault, and that is designed to humiliate the complainants rather than test the relevant evidence.
The civil justice process does not work either
The civil process has some distinct advantages for the victims of sexual violence. The standard of proof ("the balance of probabilities") is more realistic for what is (almost always) a witness-less assault. The complainant can have a lawyer (if they can afford one) from an early stage to advise and support them.
But despite these improvements on the criminal process, this is still a deeply flawed system. The adversarial process ("he said, she said") is extremely harsh for complainants who have their credibility, recollection, and motives attacked over and over by opposing counsel. The defence may also bring "experts" forward who say that a victim is lying about lack of consent, or has no psychological damage from being raped, or denigrate her with other so-called expert psychological evaluation.
In practice, the eventual outcome to a civil suit is almost always the result of horse-trading settlement offers between lawyers. Any sense of personal vindication or closure gets shoved to the side. And there is no sanction for the offender – no change in his personal circumstances – other than the damage to his wallet.
Using the civil process to seek reparation for sexual violence is a blood sport that only those wealthy enough and either naïve enough, or in my case, bloody-minded enough, will try. It is too intimidating, too slow, too expensive and ultimately too unsatisfying to recommend to most victims of sexual assault.
The workplace investigative process is possibly the worst of all
Over the last three years, I have been blown away by the appallingly unprofessional, incompetent and downright mendacious nature of a couple of workplace investigations into sexual misconduct that I have seen close-up.
Even the most basic protections for complainants – anonymity, legal or other support, accompaniment to interviews, clarity about process and potential outcomes – are often lacking. In these circumstances the disincentive for complainants to come forward and tell very personally difficult stories is overwhelming.
And then of course there is the issue of actually telling anyone in the workplace that such an investigation is taking place. Employers are customarily advised that if they let anyone know that there is an investigation of "X "for sexual misconduct at work, "X "may sue them for defamation. In one recent investigation by the University of Windsor, this meant that I and others were warned not to talk about what we called the "secret investigation". We considered flyposting the women's bathrooms with information about the investigation and how to contact someone for support. In my own experience, workplace investigations of sexual harassment and even predatory sexual behavior are a complete joke.
There are so many ways – some mentioned above, and a look at any writing about victims' rights will detail more – to make investigations of sexual misconduct better, and some are simple. How is anyone supposed to come forward with confidence when:
They have no clarity on remaining anonymous?
They have not been told about how the future process will unfold?
They are told not to talk to their friends, and to come alone to their interview?
They are told they "probably" won't be sued by the person they are complaining about and so will not be provided with legal counsel?
Oh, and they may not actually know there is an investigation into sexual misconduct by "X", or even any investigation at all.
A2J for victims now means changing the processes
If we are committed to Access to Justice for the victims of sexual violence, we have to accept that none of the existing processes work for victims.
The stories bursting into our attention in the last month are all, so far, about claims being made. In most cases, victims had not come forward before because it felt too dangerous or daunting for them to do so. In a few cases, they had received private hush-money years ago.
While the recognition being given to the cascade of disclosures of historical abuses is tremendously encouraging for many, the real litmus test for change will be in how these cases are processed and "resolved".
If or when any of the hundreds of cases emerging into public view make it to a criminal trial, the later stages of a civil lawsuit, or a workplace investigation, we should expect to see the same system failures as I have described above.
A2J for the victims of sexual violence – who include your female family members and friends – means changing the process whereby we hold their claims and the accused to account. It means that knowledge of sexual trauma and its legacy – including post-incident contact, PTSD, and reluctance to report – is relevant to designing this process. It requires properly trained police officers, lawyers and judges. It demands taking seriously the protection of girls and women from both sexual violence and the violence of the present-day legal processes.