Casual Sexism and Access to Justice – Facing Our Discomfort
NSRLP
Earlier this week, NSRLP posted a notice about a new women's legal aid clinic in Vancouver on Facebook and Twitter.
Unfortunately, we have recently had to block a couple of Twitter accounts that have responded with misogynist comments to our tweets about women's issues, and in particular, how the legal system fails to address sexual violence, most of whose victims are women. As some of you may have noticed, I have increasingly tweeted about these issues that I believe are essential to understanding some of the obstacles to achieving genuine Access to Justice.
One of our Facebook members chose the "angry" emoticon to react to the post and then wrote a comment (which I have removed) in the same hateful vein.
Casual sexism
While recognizing that some of my regular readers may find the connection to A2J tenuous, a convergence of events in the last week drives me to write this week about the tension that is pervasive when we discuss gender bias and sexism.
In particular I want to talk about the casual, offhand, often unintended sexism that has largely – although not, as the example above shows, entirely – replaced the explicit sexism of my youth.
What do I mean by casual sexism? To me, it comes down to generally patronizing and diminishing women, or minimizing their most poignant (painful, important, formative) experiences. It includes being part of social interactions where, for example, men are asked about their work, and women about their pets or hobbies, their clothes or their weight. Where a couple picks up the bill for dinner but only the guy – presumed to be the breadwinner – gets thanked (this one is a pet peeve of mine).
This casual sexism is not be as blatant or abrasive as the explicit "shut up about that" I heard regularly as a junior academic, but for me, and I suspect others too, it can feel just as corrosive and depressing. The choice is to ignore it, or (humorously, lightly) to call it out. The former feels passive, the latter exhausting.
And who wants to be this person in a crowd? Speaking up about casual sexism is commonly regarded as annoying, nagging (there's a gendered concept), overly-sensitive (another one), or even paranoid.
I have been regularly accused of "over-sensitivity and paranoia" in raising issues of gender bias for more than 35 years. And you know what? That has never been true. Not once. The behavior I have reacted to was real, and if we hope to change the chauvinism prevalent in our culture, these casual, unmindful acts of sexism must sometimes be acknowledged, and challenged.
Do some people find my continual raising of these issues annoying? Yes, probably. Impolite even, by the standards of some. But as the shirt my daughter gave me for Mother's Day says: "well-behaved women seldom make history." (Laurel Thatcher Ulrich)
The cycle of statement & response
Someone who is a casual sexist is often kind, thoughtful, and likeable – and oblivious to the implications of their behavior. And this brings me to the next challenge of casual sexism – these guys do not like to be called on their behavior. Because they aren't sexist, right? They're just being dudes, and anyone who challenges this interpretation needs to be put firmly – very firmly – in their place.
The intensity and predictability of this response is often, at least in my experience, more upsetting and depressing than the original behavior. Because raising a question – even a tentative, humorous, just-saying kind of question – about casual sexism brings down a force of hostility that never fails to shock me. "How dare you accuse me of sexism? How dare you suggest that I (Sensitive New Age Guy that I am) don't understand these issues? Of course I get it!"
Casual sexism by its very nature seems to deny and thereby extend the victimization that many women have experienced.
So there you have the cycle – raising issues of casual sexism is characterized as "overly sensitive and paranoid" – or at minimum "annoying and killjoy" – by men who are otherwise open, kind and reasonable – but suddenly develop abrasive and hostile reactions when this topic is even raised. They are not sexists – how dare you! The cycle ends with the woman silenced.
Can we break the cycle?
We see the same cycle in relation to other issues – racism, homophobia, ageism – where we struggle back-and-forth between denying and confronting our own biases and advantages. We even see it in the continued widespread denial or minimization of our Access to Justice crisis.
If we address casual sexism each time we experience it, we wouldn't have time to do much else each day, and few people would want to hang out with us. So maybe that's unrealistic.
But gender bias is powerful. It affects everything we do, and how we think – how we see the world and how the world sees us – how we read and respond to the news, for what or whom we cast our vote, how we think about Access to Justice, how we relate to our colleagues, and how – most importantly – we talk to our family, friends, and children.
We could make a lot more progress towards mutual understanding on the occasions that we do choose to raise these issues if we could break the cycle of finger-pointing . Our progress towards "normalizing" conversations about such topics is painfully slow. Surely casual sexism – just like race, homophobia and Access to Justice – is important enough that we should be able to raise it as part of normal conversation, without everyone getting angry or defensive?
Three acknowledgements seem critical in order for us to be able to raise these issues, and to have better conversations.
We don't know enough
The experience of being female in a male-dominated culture is poorly understood by most men. These are often really nice men, kind and intelligent, but they don't know enough to be able to really empathize with this power imbalance (just as I cannot understand the experience of a man, or the experience of a woman of colour). They have probably never been raped, sexually assaulted, or made afraid by a woman.
Simply "not-knowing" is a big part of the Access to Justice challenge. While members of the legal profession know more now than they did 5 years ago about how many Canadians come to court without counsel, there are still many in the profession who remain blissfully ignorant of the scale of the crisis. If they do not know why so many Canadians are coming to court without counsel, they probably also do not know that the wage gender gap likely means that the unaffordability of legal counsel is even more acute for women than men. Or the prevalence of domestic male-on-female violence and the strained patchwork of public services.
     2.   We don't understand what there is to know
"Not-knowing" is compounded by a denial that there is anything that we may need to know, but do not.
As anyone who tries to explain a painful experience with sexism, racism, or homophobia (for example) will tell you, the first problem is convincing the other person of the validity of their experience – in other words, that there is anything that they even need to know and understand.
In Access to Justice, knowledge about the sheer volume of SRLs is just a first – albeit important – step towards understanding. The next is to recognize that there are aspects to this experience – the different reasons that people find themselves without counsel, their experiences of working with lawyers, what it is like to navigate the system alone and especially, what are the multiple and intense impacts of self-representing – that we cannot just assume that we know. We have to listen with humility in order to find out.
We are scared of any change to the status quo
This is the big one.
What would happen if a man in conversation with a woman were to try to expand his understanding of, say, what it is like to be date raped, or what it is like to report an assault to authorities who then accuse the victim of lying, or what it is like to always be the person who raises the "that's a little bit sexist don't you think?" flag in conversation?
Raising the issue puts the other person on notice that something needs to change. And change scares us all, most of all.
It's the same with the discussion about providing unbundled legal services to the primarily self-represented. Or providing SRLs with resources to enable them to pursue their cases partially by themselves. Or allowing para-professionals to help people who cannot afford lawyers. If we truly understood – as we try every day to do at NSRLP – what it means to be unable to afford Access to Justice and meaningful assistance, we would realize we have to change – and change is hard. For lawyers, it threatens not only how they think, but their status, their income and their identity.
Discomfort is inevitable – and it's OK
I realize that this blog may elicit some strong negative responses (the cycle would suggest that).
But I believe that pushing important conversations forward and expanding our knowledge and understanding is important enough to accept some personal discomfort (and believe me I have experienced plenty in my inept efforts to confront casual sexism).
It's OK to feel uncomfortable – in fact, it's probably essential if we are to confront our lack of understanding and fear of change.
And after 35 years of being annoying on this topic, why would I quit now?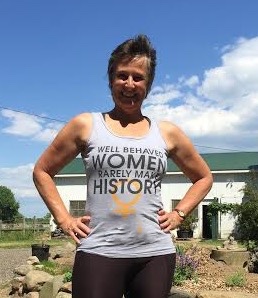 "well-behaved women seldom make history." (Laurel Thatcher Ulrich)