Posted by:

NSRLP
Comments:

0
Post Date:

November 6, 2018
---
NSRLP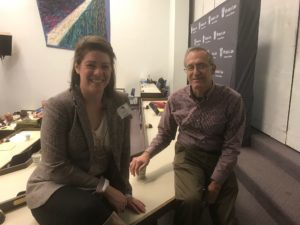 This week on the podcast we hear from delegates at the NSRLP's recent 5th Anniversary event, "Continuing the Dialogue", which brought together people from across the justice system, including self-represented litigants, to engage in frank discussion about the Access to Justice crisis, and what needs to happen to ensure SRLs have a place at the table. We asked everyone to give us one practical change that would make a real difference in Access to Justice, and recorded some fabulous responses from SRLs, lawyers, A2J advocates, and academics. To tie all these thoughts together, we asked our Event Facilitator, Bernie Mayer, to comment and reflect with Julie. Thanks to all our contributors: Dom Bautista, Denice Barry, Anthony Morgan, Joel Miller, Jeff Rose-Martland, Jana Saracevic, Kenneth Cheng, Ali Tejani, Randi Druzin, Judy Gayton, and Andrew Pilliar.
In other news: The Canadian Forum on Civil Justice has released 3 new reports on Everyday Legal Problems and the Cost of Justice in Canada; the Law Society of BC is evaluating a proposal to establish a new category of legal practitioners; and for more on NSRLP's Dialogue Event, see our recent blog co-written by Julie and Jennifer Muller.
Related:
Five Years Strong: NSRLP to Host Second Dialogue Event
Judges and SRLs: Continuing the Dialogue
Opening the Dialogue: Event Report
Other News:
Canadian Forum on Civil Justice (CFCJ) publishes 3 new reports
New Law Society of B.C. proposal
Continuing the Dialogue 5 Years On
Jumping Off the Ivory Tower is produced and hosted by Julie Macfarlane and Dayna Cornwall; production and editing by Brauntë Petric; Other News produced and hosted by Ali Tejani; promotion by Moya McAlister and Ali Tejani.