Why it is Critical to Educate Law Students About the Self-Represented Litigant Phenomenon
NSRLP
Last spring my team of student research assistants and I did some brainstorming about an issue that concerned us all deeply.
How best to both inform and energize law students about the explosion of self-represented litigants and its implications?
How to give law students an understanding of the struggles faced by those with no alternative but to represent themselves because they could not afford counsel (or only a little bit of counsel)?
 How to encourage law students to begin to think practically about what the SRL phenomenon may mean for their own future practice and their practice options?
Our brainstorming accepted the current limitations of our law school curriculum, in which there is little mention made of clients, and even less of self-represented litigants.
Nor is there a class that teaches students about the practical mechanics of different financial structures and billing models – the assumption being that they will all work on a billable hour / retainer/ full representation basis (the traditional model) once they are out in practice.
We also recognized that law students are pretty focused on grades and getting a job that will enable them to start to pay off their student debt. Since law grads are largely uninformed about the realities of the SRL phenomenon, legal practice focused on providing access to justice to this group is not taken seriously as a viable career option.
What do law students need to know?
The NSRLP has important information that we believe law students – and future lawyers – need to know, including:
Just how many people now go to court without lawyers, or lose them partway through their legal case
How common it is for lawyers to encounter SRLs on the other side of a case, and how to work professionally and constructively with them
The business opportunities that this market offers, especially to new lawyers who are unencumbered by assumptions about the traditional model and are open to tapping into a clear need for different types of legal services
 Every Seat Taken
My student team at NSRLP persuaded me that we should offer a one day extra-curricular "certificate workshop" on these questions to Windsor law students in the first few weeks of school ("before everyone gets tired and disillusioned"). To avoid conflicts with other classes, the workshop would be held all-day on a Saturday.
My Dean readily agreed to pay for lunch for student attendees.
In August, we sent out a notice of the date and content of the workshop to our entering class, as well as the 2016/7 2L's & 3L's.
Two hours later, the workshop was full – with a 50 plus waitlist.
The Access to Justice and Self-Represented Litigants Certificate Workshop
The final agenda for the workshop included an overview of the original National SRL Study, the CBC documentary "The New Litigants", playing the SRL Interactive Game, and a panel discussion with two law students (Chantal McCollum from Ottawa U, Sylvia Basso from Osgoode) who were themselves former SRLs. There was also a segment in which the students worked – noisily, passionately, energetically – in small groups on ideas for student projects with SRLs. Gurleen Gill and Lidia Imbrogno, NSRLP research assistants, worked with me on both the agenda development and presenting the workshop.
I have been a law teacher for 35 years this year. I fell in love with the energy, passion, curiosity and intelligence of my students – in Ireland, the UK, Hong Kong, Canada, the U.S., Hungary, China, Malaysia, and Australia – a long time ago.
But what happened in that classroom on Saturday September 17th is something I shall never forget.
"I'm in 3L. Why didn't I know this before now?"
For the first few hours, the students listened intently (remember, this is early Saturday morning…) to information about the explosion in the numbers of SRLs, the reasons for self-representation, the obstacles faced by the self-represented and the impact on them, and the challenges for the legal system including judges and lawyers. They looked astonished. We asked if they had questions. They looked shell-shocked.
After lunch, they talked with two former SRLs who were now their peers, students in other law schools. In one case they heard a description of how much money had been spent on legal services before resorting to self-representation. Hands went up around the room.
"Excuse me, did you really just say $….?"
"Do you mind if I ask, how come you didn't know you were going to be spending this much?" Didn't you ask?"
Slowly the realization dawned that people just as smart as them found themselves in a place of powerlessness in the hands of a billing system that fractionates everything into minutes, and over which they have no control.
And why, as the other panelist explained, "You don't hire a lawyer when all you have at stake is $5000."
At the back of the room one student was struggling to express himself. "But isn't this unethical and unprofessional?" (Me: "Ummmm"). "I mean if we say that lawyers are offering access to justice?" (I was still stuck about how to answer, but the student continued, spluttering with indignation).
"I'm in 3L. Why didn't I know this before now?"
Taking the SRL Workshop On the Road
We have begun to consider whether we should take the SRL Certificate Workshop "on the road" to other law schools. It could be offered by a combination of myself and NSRLP's presentation-experienced and knowledgable student research assistants. All that would be needed to bring the SRL Certificate to your law school would be the expenses of getting our team there and back.
 Are there any law schools out there that might like to take up this offer?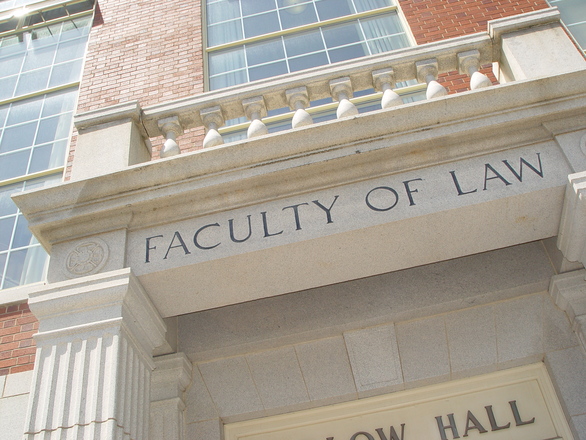 Finally, in case you are in any doubt about the importance of reaching law students with this information, here are a few of the email messages I received after the workshop from attendees.
"It blew me away that in the 1970's, there were a mere 1% of family cases which included a self-represented litigant, whereas now there are over 80%." (Igor Vilkhov 1L)
"I was shocked, and I remain shocked, that over 80% of individuals in some family courts are self represented. Not too long ago that number was 1%. It is a clear access to justice issue." (Khalil Jessa 2L)
"Learning about the SRL experience was very eye-opening.  I believe spreading awareness through workshops like this and getting to collectively brainstorm with my peers about possible solutions to this growing problem will truly fuel change and I am grateful to have been a part of that." (Nicole Bergil 2L)