A Tale of Two Systems: A Modern-Day Fable
NSRLP
Our medical system is far from perfect – as a patient for the last seven years I am aware of many of its shortcomings. Some of the same tensions and challenges that are faced by the legal profession exist within the medical system. However, the medical system may be light years ahead of the legal profession in appreciating the importance of inter-related and complimentary roles and skills, and meeting the basic needs of its users.
The following is based on a true story
As Sara was wheeled into the ER that evening in July, she watched a network of services unfold.
The paramedics who brought her in explained Sara's situation and provided basic health information to the triage nurse – then turned, waved and headed out.
A clerk checked her Health Card.
The nurse triaged her.
A technician drew blood for lab work.
Another nurse checked her vitals.
The ER doctor examined her. "You need an emergency appendectomy."
Introducing the anesthetist, the doctor said, "We are going to put you under now and take you up to the OR. I expect your surgery will be straightforward and we shall see you in recovery."
*                                              *                                              *                                  *
The next time Sara surfaced into what felt like consciousness, she was back in the ER. Right back, in fact, at the moment that she was first wheeled into the hospital.
But this time, everything was different. Dream-like but also – different.
"I can't register you until I have permission from the chief surgeon. She is busy in the OR, so you will have to wait over there" said the nurse at the desk, gesturing towards a crowded room of exhausted looking people.
Sara was puzzled: "Why does the chief surgeon have to register me?". The nurse was brusque: "It's an insurance thing." To the paramedics: "You can put her in that room over there in the meantime."
Ten minutes later, Sara was starting to shiver. It was chilly in the side room. Sara's husband Atif – who in the way of dreams, had suddenly materialized – was concerned she would catch a chill. "See if I can have a warm blanket" said Sara. They keep them in a heated cupboard – that's just what I need to warm me up."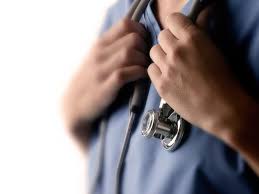 Atif went to the nurse's station and asked the first person he saw, "Would it be possible to get a warm blanket for my wife? She is getting really chilled and I would like to keep her warm while we wait."
The nurse looked panicked.
Dropping her voice and glancing furtively from side to side, she said to Atif, "I can't do that, I'm sorry."
Atif was taken aback. "Why ever not? If you are busy, maybe you can show me where the warming closet is, and I can just grab one?"
"No…" the nurse's voice tailed off. "It's not that. I can't give you a warm blanket for your wife because it is sometimes seen as "medical advice and assistance" (her fingers made quotation marks in the air) and I am not qualified to give that."
"Giving me a blanket?"
"Well, maybe. Its just not clear and I don't want to get into trouble." The nurse turned and walked away.
Atif walked back to Sara, to find a technician drawing her blood and a doctor standing in the corner of the room watching. Or rather, looking at his phone. The blood work completed, another nurse came in the room to check Sara's vitals. The doctor continued to stand in the corner, looking at his phone.
"Hi" said Atif to the doctor.
The doctor shifted uncomfortably. "I am supervising these paramedics, please do not disturb me" he said grumpily.
"Oh, OK, sorry" said Atif.
A few minutes later, Sara was being wheeled down to the OR by a porter, with Atif walking at her side. When they reached the entrance to the sterile area, the porter gestured Atif towards the waiting room. After Atif had kissed his wife and left, the porter turned to Sara.
"Do you have your surgeon booked?"
"Pardon?" said Sara.
"Do you have your surgeon organized?"
"I'm not sure what you mean by 'my surgeon'" said Sara, feeling baffled.
The porter sighed. "Did you retain a surgeon, yes or not?"
Sara was confused "Not that I am aware of. I just arrived in ER. I saw a doctor there who said I needed surgery."
The porter sighed again and reached under the trolley.
"OK then, no surgeon. So here are your tools." He dumped a series of vacuum sealed sterile packages containing surgical instruments on top of Sara's stomach. "Good luck to you."
Giving Sara's trolley a final push through the doors of the sterile area, the porter disappeared. Sara found herself in an operating room. A cheerful looking lady put her head around the door. "It's all yours for the next 20 minutes dear", and withdrew.
Sara felt a mounting sense of terror in her stomach. What was happening? Surely she was not going to be expected to perform surgery on herself unaided? She could vaguely make out posters on the walls describing "coaching services", but surely it was a bit late for that now…..