The Change & Advocacy Blog: How We Each Can Do Our Bit
NSRLP
We were honored by the award of another CLAWBIE for this blog at the end of 2016 in a new category called "Change & Advocacy. The new Clawbie category recognizes "blogs that drive positive change in the legal system."
I will face some challenges to my scholarship and activism in the coming months, as I go back into treatment for cancer.
So this blog post is about how we can each find the motivation and the means to do our bit for driving positive change in the legal system.
Dig Deep
Some of us advocating for change have been at it for a long, long time.  We often feel frustrated at the glacial pace of change, and alarmed at the strong resistance to a client-focused system of legal services.
It's easy to get disillusioned, and to stop believing that each of us can make a difference. We sometimes need to dig deep to draw on our inherent optimism, and to remind ourselves that changing the legal system for the better is a big goal that reflects our belief in creating a more just world – in other words, it is crucial for how we make meaning in our lives.
But sometimes – with many other life demands on us – it's hard to find the energy. I may have some practical challenges in this respect in the coming months. However, notoriously annoying energy bunny that I am, I recognize that diminished energy – any energy – is still effective if it is focused and channeled towards a purpose.
We Each Have Power
Each one of us can contribute to positive change in the legal system, whether you are a lawyer, justice sector worker, law student, or a member of the public. The first step is picking a goal for yourself, one that will also inspire you and motivate you on the bad days.
Sure, it needs to be realistic – it can't be changing the foundations of the entire system single-handedly. There are many others in this endeavor, and your piece is part of a team. But your goal should inspire you and feel personally important enough to keep you motivated, engaged and committed through the difficult conversations, the setbacks, and the days when you feel a lot less than powerful.  Such times are inevitable.
Because while there are power differentials built into "the system"– admittedly, my voice is not as powerful as a Supreme Court of Canada judge, or the Minister of Justice – none of us is actually powerless here. We can all contribute some forward momentum toward changing the old ways. All the more so in 2017 than in the past – social media has dramatically changed the way that we connect around Access to Justice issues and highlights both progress being made, and the many inequalities that still exist.
Pick Your Goal
Goals that you could set and meet before the end of 2017 could include:
If you offer legal services, try offering unbundled or coaching services at less than your regular hourly rate – join one of the emerging lists of lawyers offering such services to the primarily self-represented – take a course or webinar on unbundling or coaching in order to learn more. If your practice is primarily corporate, you can still make it a goal to inform yourself about these important new personal service models so that you can discuss them with colleagues and offer an opinion.
Consider running for election in your favorite professional organization – whether that is the OBA, the CBA, O-AFCC, or even the LSUC as a Bencher – so that you can promote professional education, policies and contributions to the Access to Justice debate that push positive change and are willing to take on self-interest, protectionism and the entrenched elitism that rejects public input. We know from experience that professional leaders can make a big difference. Perhaps you can be one of these insiders who pave the way for the outsiders.
Lobby your local bar association and/or your elected representative. The public has thousands of stories to tell about the hardships faced by those navigating the justice system alone and with less help than they really need. Write – politely – to the President of your local bar association and ask to come to an Executive meeting and put Access to Justice on the agenda. You could consider doing this as a team of two or three individuals (for moral support!). Explain that you want to work with local lawyers to give them a better understanding of the struggles of SRLs, and the need to find solutions. Copy your correspondence to your local elected (provincial, federal) representative.
If you teach at a law school, add a unit to your curriculum on Access to Justice, SRLs and new emerging models of practice to meet their needs. With very few exceptions, this is relevant no matter what you teach.
If you are a law student, go to your Dean and ask for more material to be included in relevant courses on the Access to Justice crisis, and how you can prepare to work with the primarily self-represented. Suggest a course on unbundling and legal coaching. Propose that your law school participate in SRL Awareness Day.
Then Speak About It
Whatever your goal, don't be shy about it. Talk about it to colleagues and friends and neighbours and fellow students. Post on your social media. Accept that some people will find you annoying – advocacy for change is not a popularity contest.
Tell the NSRLP what you are doing. We can offer support, resources, publicity through our own social media, and much more.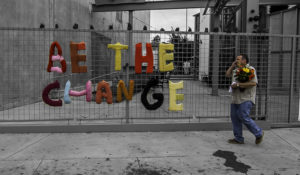 Changing the Conversation: Fundamentally and Permanently
We each have the power to change how the legal system understands and responds to the challenge of Access to Justice, and to the explosion in the number of SRLs. This conversation has begun to change, but we cannot be satisfied with superficial nods to A2J, new reports (however good) and good intentions.
The forces that will resist change are still as strong as ever (witness the Ontario legal establishment's shamefully self-interested responses to the Bonkalo Review proposals).
We need to aim for a New Normal:
Where the attitude that clients are a pain who "get in the way" of our "real work" (and the self-represented even more so) is no longer acceptable. This includes making snide jokes about the stupidity of both groups.
Where law is recognized as an essential public service, and pure self-interest is neither encouraged nor professionally acceptable.
Where law schools accept their responsibility to educate future lawyers using contemporary, client-focused content and skills, and not the glorified adversarial habits of the past.
Where professing a commitment to equalizing Access to Justice resources is seen as mainstream, honorable, and a sign of awareness of the most important question facing the legal system.
Let's get to work. See you later.
Julie