Posted by:

NSRLP
Comments:

19
Post Date:

September 10, 2018
---
NSRLP
The world was riveted by the conflict that descended on the US Women's Tennis Final on Saturday night.
Subsequent days have produced an outpouring of argument over the behaviour of Serena Williams, who was competing for the coveted title against Naomi Osaka. Williams lost after a series of code violations were called against her by the chair umpire, violations that are rarely called (almost never against male players), and which culminated in a forfeited game at a crucial time in the second, deciding set.
For those not familiar with tennis scoring: forfeiting an entire game at this point in a championship final is a really, really big deal, a little like getting a goal added to one side's score in the last 5 minutes of an otherwise tied Stanley Cup final.
And for those not familiar with the conventions of tennis umpiring: I have been watching tennis since I was 10 years old and I have never, ever seen a player at any level or in any match be given a game forfeit. This period covers the tantrums of often extremely badly behaved players such John McEnroe and Ile Nastase.
Serena behaved badly, no doubt about it. But her anger was righteous and for good reason.
Which brings me to SRLs…
At the risk of being accused of seeing everything as a nail when you have a hammer, the dynamics of the Serena story – which I watched live along with millions of others – almost immediately made me think of the conundrum faced by SRLs.
There is nothing more infuriating than being treated unfairly.
In Serena's case, as well as for many SRLs, unfair treatment is not a one-off experience. It usually accumulates in a series of incidents over time. Each one adds to a generalized sense of grievance. And each one makes it harder to ignore and rise above the next one.
Most of us will eventually push back, some sooner than others, and some louder than others (and in Serena's case, some more publicly than others).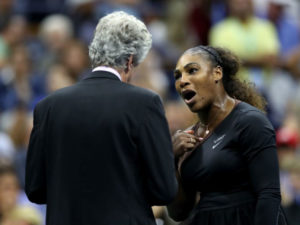 When we do argue back, get angry, or call out the person we feel is being unfair, we make ourselves vulnerable. Vulnerable to others who look on and judge us as crazy, uncontrolled, and "bad".
And, if you are Serena Williams, judged in the form of a racist and sexist cartoon that goes viral around the world.
When we sense that our reaction to the original unfairness is being disapproved of and judged negatively, it's hard not to feel an even greater sense of frustration and unfairness. Which may in turn translate into our own worse behaviour, language, and resistance.
I am not advocating for the type of public meltdown that we saw on court from Serena Williams on Saturday night, any more than I would advocate for an SRL behaving rudely or inappropriately in court.
What I am trying to point out is that Serena shows us how easily and quickly we buy into a demonized evaluation of someone and their behaviour. She had good reason to point out that the code violations called against her in the Final were unfair and probably motivated by the sexism and perhaps racism of the chair umpire, who did not take kindly to being spoken to sharply by an African-American woman. SRLs often have good reason to push back against being spoken to with condescension and even hostility by opposing lawyers and judges, and being penalized in ways that seem out of the ordinary and even discriminatory. (For some examples, see our recent SRL Case Law Database reports).
Treating people badly often means that they behave badly.
But that should not cause us to lose sight of the originating problem. Serena was treated unfairly on Saturday night. SRLs are treated unfairly every day in our courts.