Posted by:

NSRLP
Comments:

12
Post Date:

September 6, 2018
---
NSRLP
Of the most important life lessons I have learned in the last 35 years, many have been about recognizing inequality and powerlessness.
Growing up in a rural island community that presented as 100% white, Christian, and heterosexual, I was unaware of anyone from a different religious or ethnic group, or a different sexual identity, until I went to university – where in 1976, there was just one black student on the campus.
Learning about those different from ourselves is never straightforward. Understanding occurs via many twists and turns. We make many mistakes along the way; I know I have.
It is a trite but critical truism that those with power, who have not experienced inequality or discrimination, are also the most unconscious of their privilege.
Canada's commitment to fairness and equality
 In Canada, the importance of identifying power imbalance and discrimination is fundamental to the centrepiece of Canadian legal jurisprudence, the Charter of Rights and Freedoms. The evolution of the Charter in law distinguishes Canada's approach from other countries – like the United States – by understanding fairness and equality as a collective endeavour for which we are all responsible, and not just the elevation of individual rights.
But in practice, our success in reducing homophobia, racism, religious discrimination, sexism and more, is tied directly to our ability to recognize inequality and privilege whenever and however it arises.
Power in the justice system
Despite the feel-good message of the Charter, the day-to-day operation of the Canadian justice system is a petri dish of inequality, discrimination and privilege. A small number of individuals – judges, lawyers – wield enormous power. Access to legal knowledge and membership in the legal "club" is often an unconscious privilege.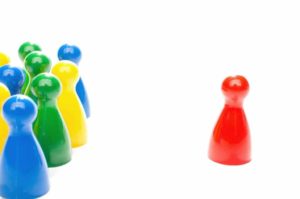 When privilege is not shared, society reflects it. The incarceration rate of African-Canadians is more than three times their proportion in the general population. Indigenous people are more likely to go to jail than to university. Women lawyers are patronised and discriminated against in both courtrooms and law firm boardrooms (there is a terrific recent Atlantic article on this). Minority lawyers face continuing marginalization and exclusion.
I could go on. But you get the picture.
SRLs are "the other" in the justice system
Where do self-represented litigants – who reflect Canada's diversity across race, class, education, gender, sexual identity and more – fit into this analysis?
Self-represented litigants are another marginalized, mischaracterized, unfairly treated group in a justice system that is already unfair to most of those who do not fit its preferred "type" – possessing the "right" education, upbringing, clothes, ethnicity and gender.
There is clear evidence (browse the NSRLP research reports if you are in doubt) that most self-represented litigants:
Have insufficient resources to retain a lawyer for full representation
Are treated as "second-class" actors in the legal system
Are penalized for errors that are seen as intentional mischief-making or for doing well (so any subsequent mistakes are unforgiveable)
Eventually lose an unequal fight
It is self-evident that SRLs have not endured the same history and extent of chronic prejudice that others groups have. I am not suggesting that there is any comparison between the suffering and violence experienced by Canadians from communities long discriminated against.
But SRLs' current situation as the "other" in the justice system leads to some similar dynamics to those historically excluded.
They are often not taken seriously or treated as reasonable, intelligent people
They are frequently accused of behaving in a way that undermines their effectiveness (too emotional, too adversarial, too many mistakes)
Their complaints are usually dismissed as self-interested and inadequately informed by what the "real" actors in the justice system understand
They are expected to fall into line with existing conventions and practices (and to somehow know what these are)
This is a classic typology of a group that lacks real power and is treated unequally.
They are demeaned and regarded as inferior to the group with privilege
Their grievances are discounted
Pushback is regarded as bad behaviour that must be punished
They are treated as "outsiders"
If SRLs were an homogeneous group identifiable by race, religion, sexual identity or other, we would more easily recognize their situation as characteristic of a disempowered group. If the same group were profiled by the court system as "troublemakers" intentionally messing with our revered traditions we would, I hope, see quickly that this was the consequence of their "otherness" rather than their actual behaviours and traits.
But the real litmus test here is how the justice system defaults to assumptions and treatment of SRLs as a group, rather than as a diverse collection of individuals with unique problems, aspirations and values.
It's time for us to start to talk frankly about the SRL phenomenon as an issue of power and inequality. It's time for us to start developing A2J solutions that recognize this core reality.
With special thanks to Rob Harvie, Ranjan Agarwal, Judy Gayton and Chris Budgell