NSRLP Has Won a Clawbie!
NSRLP
2016 began with wonderful news for the NSRLP blog – we won a Clawbie (awards given annually for the top Canadian legal blogs) for the best non-lawyer audience blog (see http://www.clawbies.ca). The citation read as follows:
"The National Self-Represented Litigants Project at the University of Windsor is at once perhaps the most important and most unsung access to justice initiative in North America. Regular updates on everything A2J-related, as well as a conversational tone and a commitment to practical solutions makes this blog, led by NSRLP leader Prof. Julie Macfarlane, one of our current favourites and a runaway winner in this category."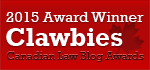 We share the honor of this award with NSRLP's editor, Cynthia Eagan, and the guest bloggers who contributed during 2015.