Putting the Brakes on Summary Judgments Against SRLs
NSRLP
At NSRLP we were thrilled to see the Ontario Court of Appeal decision in Khan v. Krylov & Company LLP (2017 ONCA 625) last week.
The Court firmly put the brakes on the use of summary judgment procedures – here Ontario's Rule 2.1 – to eliminate actions that are inadequately pleaded by SRLs.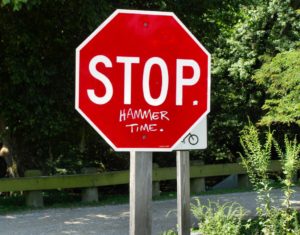 The judgment states:
"Rule 2.1 is an extremely blunt instrument. It is reserved for the clearest of cases, where the hallmarks of frivolous, vexatious or abusive litigation are plainly evident on the face of the pleading." (para 14)
In Khan, the Court of Appeal is saying that just because pleadings drafted by someone without legal training may not argue clearly, or offer all the relevant evidence, or make the case in the most artful or logically consistent way – that doesn't mean they are an abuse of process.
Of course, Khan is unlikely to be the final word on this issue – there have been hopeful signs before (e.g., Hope v Pylypow). However, after 3-4 years of sitting on the sidelines watching courts across Canada introduce procedures enabling summary judgments –  purportedly to combat the "scourge" of SRLS – it does appear to us that finally the monumental misjudgment of the basis of the actual problem has been recognized.
Our research
At NSRLP, we have been concerned for many years about the use of summary judgment procedures – including the much simpler Rule 2.1, which was introduced in July 2014 – to eliminate cases brought by SRLs.
In 2014, our Summary Judgment Research Report (featured in CBC's The National's documentary, The New Litigants) showed that even after cases involving anything approaching "vexatious" or "abusive" behavior by the SRL were removed, the success rate for counsel-brought motions for summary judgment was still an amazing 95% (Canada-wide figures, from cases reported in Can Lll).
The same exercise for counsel-brought Ontario cases against SRLs brought under Rules 20 & 21 produced a success rate 88%.
We acknowledged at the time that,
"…an increase in SJPs [summary judgment procedures] may simply reflect the growing number of self-represented litigants (SRLs) in the courts, and a felt need (seen in legislative and judicial initiatives) to strike actions that do not have merit at an early stage. Growing numbers of SRLs in civil and family courts raise considerable challenges for the efficient use of available justice system resources…"
Nonetheless we thought that these figures were extremely worrisome.
The fact that 50% of reported cases did not provide reasons, or provided minimal reasons, made it difficult to discern just why the motion for summary judgment had been granted. Is this acceptable because the losing party was an SRL?
At the time I remember thinking, "please, could someone other than our kitchen-table top operation (our summary judgment research report was brilliantly researched by a volunteer who was also a court clerk, and a third year law student, under my supervision) pay attention to this trend?"
The reaction
The attention paid by the legal establishment to the 2014 Summary Judgment Research Report was not quite what I had hoped for. I was taken to task by colleagues. Was I questioning the ethics of the profession? Was I suggesting (yes) that this was a conscious strategy to defeat SRLs?  It seemed to them that the real reason was that there were too many SRLs in the courts and SRLs, well, they were a nightmare. Et cetera.
The rest of the context
When the National Self-Represented Litigants Project  began in 2013, with the incredible support of Windsor Law and later the steadfast support of the Law Foundation of Ontario, then-Project Coordinator Sue Rice and I set  just one major objective: to convince the legal profession and the judiciary that the vast majority of SRLs were not in the courthouse because they wanted to be, or because they were having a good time, or because they wanted to sow anarchy in the justice system – they were there because they could not or could no longer afford to pay for the services of a lawyer.
The stubborn stereotype
I started to blog very early on about the conflation of a fraction of SRLs in the legal system with pre-existing mental health problems, or the even tinier number who are so-called Freemen on the Land, with the majority of SRLs. I read list after judicial list of characteristics that apparently made an SRL part of this unhealthy group and thus subject to a "vexatiousness" designation or summary judgment. They included things like writing too much, advocating too zealously,  odd or irrelevant attachments, multiple methods of emphasis including highlighting and underlining, or just that the judge looks at the pleadings and concludes "I can't make heads or tails of this."
These "sins" permit a court to dismiss your case summarily? Or label you in such a way that you can no longer access the courts?
Then there is the problem of exaggerated intentionality, a meme for any rigid stereotype.
Is an SRL who files papers late in the day perhaps disorganized and scattershot, or an anarchist? A person with a pre-existing psychiatric disorder? Or just a regular person overwhelmed –  as most of us would be – with trying to advocate for himself in an unfamiliar and often hostile environment where the insiders sneer at him. Or, just a really fed-up, exhausted, stressed-out person?
The death of deference
And then there is the change in the way that many, if not most, personal clients regard lawyers in 2017, compared with 10 or 15 years ago.
There is a willingness – sometimes arising from mistrust – to question the lawyer's judgment, just as the SRL did in Khan v Krylov (which focused on a dispute over a payout following a settlement).
My research interviews with clients for the last 15 years and now with SRLs reveal a growing chasm of mistrust between lawyers and their clients. The causes are described with a high degree of consistency as a combination of failures by lawyers to listen, to explain, and to convince clients that client interests will always come first.
As the Court boldly stated in Khan, "…the pleading alleges that the law firms conspired to defraud the appellant.  As distasteful as this allegation might be, it is not entirely implausible." (paras 10 & 11)
This is the highest court in Ontario acknowledging that SRLs have to be taken seriously and at face value. Otherwise there is no Access to Justice.
Postscript
It is impossible for me to conclude this blog without pointing out to Michael Myers that his assertion to the Law Times (commenting on the award in Khan of $3000 costs to the SRL) that "self-reps don't incur costs…self-reps don't have legal bills" is sadly a perfect example of the disconnect between how lawyers see the world, and how their would-be clients live.
Legal bills are not the only type of "costs". If you are an SRL and have to go to court, it's a fact that you have to take a day (or more) off work. And that's after being up all night prepping.
FYI, there is a growing jurisprudence on fair costs for SRLs. We shall be releasing a research report on our work on this as part of our larger SRL Caselaw Database project (begun with volunteer Cindy Freitag, and carried forward by a team of five law students) later this year. We shall also be releasing results from our search of family cases and "vexatiousness" (both described and designated) to show trends across the country.