The National Action Committee's A2J Innovation Roundtable—This Time with Self-Represented Litigants
NSRLP
For the first time, National Action Committee members – leaders in the legal profession, members of the Bench, justice system policymakers and those providing A2J services – had the opportunity to work directly with SRLs at a Vancouver meeting of the Committee on March 22.
Julie, along with David Merner, Executive Director of the BC Dispute Resolution Office, worked to arrange for the participation of ten SRLs as guests of the NAC. They were warmly welcomed.
Working groups (each of which included a SRL) then focused on an actual SRL case, that of Judy Gayton, the Alberta woman with a brain injury forced to represent herself despite being declared "incompetent" under the Adult Guardianship Act, and discussed how this situation could have been avoided, as well as possible solutions. The resulting ideas and participant reactions were then presented as a whole, with Judy Gayton joining the presentation via Skype.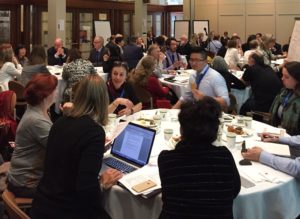 The SRLs who participated, and the NAC attendees, expressed a strong appreciation for the opportunity to dialogue. Initially, for some SRLs, it felt intimidating to sit beside a group of lawyers, judges, and policymakers. Some SRLs expressed fears about how to revisit and disclose extremely negative experiences of the justice system to a group of "insiders".
But afterward, all SRLs attested to feeling welcomed and respected by the justice system professionals. Lynda Hydamaka, a SRL, described the impact on her as follows:
"I just wanted to say a huge thank you for this extraordinary experience.  It was tough, I know I was not the only one that was triggered and shedding tears, but it was so worth it and so so important. …I don't know that I have ever felt so welcomed.  The people at my table, were "people" and not the big monsters that they have represented to me in the past.  I wish I could put into words, how this has affected me personally.  It has helped with my healing process."