An End-of-Year Blog: The State of A2J in Canada
NSRLP
2017 has seen some important steps towards improving A2J in Canada.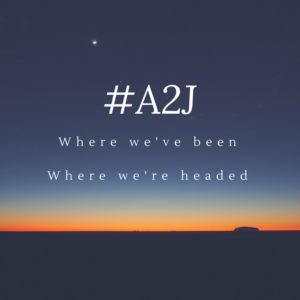 Steps which we now need to build on, in order to really begin to affect peoples' experiences in the justice system – but important steps nonetheless, that I want to celebrate in my last blog of the year.
In March, ten local SRLs – along with the SRL whose case was the subject of our discussion – joined members of the National Action Committee on A2J in Vancouver. After years of lobbying for their inclusion, this was just the second time that the judges, lawyers and policymakers who constitute this group agreed to work directly with system users (the first time was also in Vancouver, when Jennifer Muller, our friend and NSRLP Board member, participated in the original NAC "road tour" meeting in 2013).
In April, the Supreme Court of Canada in Pintea v Johns unanimously quashed the $83,000 contempt fine imposed on Mr. Pintea, an SRL, after he failed to attend two case management meetings. The Court signaled that it was not fair to treat those without counsel in the same way as counsel – and that judicial assistance might be appropriate to ensure that SRLs are not unfairly penalized and can participate in the court process.
We hope to see the effect of this landmark decision in our emerging SRL Case Law Database.
All worth celebrating, in whatever fashion you prefer!
I think that regular readers of this blog know that I am a "glass half-full girl", as my colleagues have often ribbed me. I am relentlessly optimistic about our collective ability to make important, responsible, bold change.
But each of the events I celebrate above has much further to go in order to maximize its potential to rebuild the badly damaged relationship between the Canadian public and the justice system.
Despite NSRLP's regular drumbeat of "please talk with the public", the justice community still mostly talks to itself. We are never going to meet the A2J challenge unless consulting with system users becomes the norm, not the exception. This is especially frustrating when NSRLP can connect any organization or group with local system users who will work constructively with them on system reforms. Just do it!
It will be critical to keep the pressure on the Law Society of Ontario to move forward with developing training for family paralegals. Expect to hear lots of calls for caution, taking it slowly and so on – sound advice, but it is also important to recognize the urgency to meet the needs of family litigants in Ontario. System users should be consulted in the development of specialist training for paralegals, as should dispute resolution practitioners who understand the importance of proper preparation and coaching for settlement negotiations.
Across Canada, the uncertainty and indecision around who should control paralegals, and in whose interests, continues. Earlier this year, the Law Society of Alberta backed away from regulating paralegals. While this avoids some of the regulatory dilemmas experienced in Ontario, it also means that Albertans still cannot contract with a paralegal without contracting with his or her lawyer supervisor ("principal"), and that there is no enforceable standard of training and service. In British Columbia, a pilot program to allow paralegals to make some court appearances was abandoned after it produced next to no evaluation data. Lawyer supervisors simply did not send "their" paralegals to court (now there's a self-fulfilling prophecy!).
While more courts are posting court forms online, no provincial court has yet invested in smart form technology that can guide SRLs through form completion for family and civil matters. Instead, this is being left to an increasingly creative private sector. We know that form completion is a huge issue for SRLs, and that mistakes cost judicial and court services time and resources. It is time for a provincial justice ministry to make this a priority.
The tortuous debate over the removal of Robin Camp highlights the disconnect between the Canadian Judicial Council – which has sole statutory responsibility for holding judges accountable – and the public. The CJC continues to operate a complaints system that has little credibility, and lacks transparency (the sum total of the 2016/17 Annual Report posted on its website is 3 pages long). NSRLP would be delighted to work on designing a fair, transparent, 21st century system to process and evaluate complaints against judges, one that protects both the interests of the public and the independence of the judiciary (especially if we received a fraction of the CJC's annual $1.5 million budget).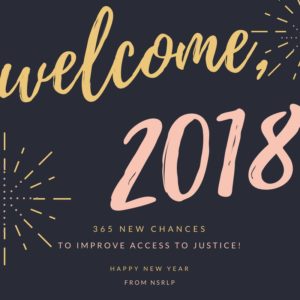 Despite the work we have ahead, it feels important to celebrate what we have achieved this year. And as a glass half-full girl, I shall continue to be relentlessly optimistic that we can improve the experience of those accessing the justice system.
Let's use the holidays, however you celebrate them, to recharge and get ready to work even harder for A2J in Canada in 2018. And if you would like a little inspiration, listen to some of our podcasts with A2J visionaries and disrupters over the break.