Great New Legal Resource for Ontarians
NSRLP
Community Legal Education Ontario (CLEO) has recently launched a fantastic provincial resource titled, Steps to Justice.ca, which provides reliable, easy-to-understand explanations of  legal topics such as custody, sick leave, rent increases, harassment, common law, discrimination, and severance pay, among others.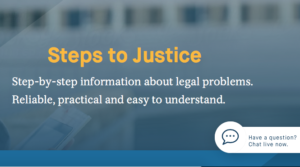 When self-represented litigants have to navigate a sea of online legal information, it can be very hard for them to locate trustworthy, authoritative sites. Steps to Justice provides accurate, authoritative information, with the goal of helping regular Ontarians understand Ontario's laws, and learn what steps to take in their legal matter. NSRLP will be recommending this resource, as we field enquiries from Ontario SRLs.
Besides addressing common legal questions that lawyers report they are asked most often, Steps to Justice also includes practical tools such as checklists, fillable forms, and self-help guides, and additionally provides referral information for social and legal services in Ontario. The site is organized by legal categories such as: Abuse and Family Violence, Consumer Law, and Employment and Work, and is also keyword searchable. Users with additional questions can get live chat and/or email responses—a valuable service, since SRLS often tell us that they need personal attention in order to address their specific concerns.
New content will continue to be added, and while the website is currently English-only, a French-language version and other translations are in the works.
While the Steps to Justice project is led by CLEO, it is a collaboration among many organizations, including The Action Group on Access to Justice (TAG), the Law Foundation of Ontario, the Ministry of the Attorney General, Legal Aid Ontario, and the Law Society of Upper Canada, among others.
Julie Matthew, the Executive Director of CLEO, speaks to the Toronto Star about the Steps to Justice program here.