Julie's Blog Wins a Second Clawbie!
NSRLP
We're thrilled to announce that Julie's Blog on the NSRLP website has won a 2016 Clawbie Award!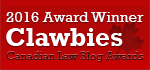 The Canadian Law Blog Awards (Clawbies) were established in 2006 by Stem Legal as a way to  highlight great blogs published by members of Canada's legal community. The Awards are affiliated with lawblogs.ca, which tracks 485 Canadian legal blogs and podcasts; the Clawbies' leadership reports that, "the consistent theme of the content posted in these blogs is the ongoing journey towards a better, more effective, and more inclusive legal system for all residents of Canada." We're pleased that Julie's blog is in such good company, and it makes our now two consecutive wins that much more satisfying!
In 2015, Julie's blog won in the "Non-Lawyer Audience" category; we are very pleased to say that this year the Blog is the first winner in the new "Change and Advocacy" category! An excerpt form the announcement reads: "Our new award category seeks to recognize blogs that drive positive change in the legal system. […] Prof. Julie Macfarlane's essential blog [tracks] progress in the fight to improve access to justice."
Here at the NSRLP we're very proud of the blog: while Julie herself is the brain and heart behind most posts, we also really appreciate our guest bloggers who add their perspectives and expertise to the blog. And we wouldn't be winning any awards without the brilliant editing provided by Cynthia Eagan. Cynthia, an information professional, has been with the NSRLP since the original 2013 study, and every piece of writing we put out is infinitely better after landing on her desk. Thank you Cynthia, we couldn't do it without you!