SRL Awareness Day – and the Access to Justice Certificate Program
NSRLP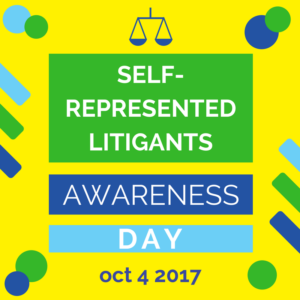 We are delighted to announce that it appears at least four Ontario law schools – Windsor, Ottawa, Osgoode and Queen's – will participate October 4th in Self-Represented Litigants Awareness Day. This NSRLP event, formerly known as Bring a SRL to Law School Day, has changed names to better "brand" the SRL phenomenon within social media. We are hoping to bring the remaining Ontario schools on board as hosts within the next few months to make it a clean sweep!
The event's goal remains to bring local SRLs into the law school to attend class, meet with students and professors, and to share their experiences and their thoughts about what prospective lawyers need to know about working with or opposite SRLs. Our student lead on SRL Awareness Day this year is Margarita Dvorkina (dvorkin@uwindsor.ca) and she is ready to provide any necessary information, including planning templates and connections to local SRLs and publicity materials.
As a follow-up to the event on October 4th, Nikki Gershbain, our Community Research Fellow, will be offering the Access to Justice Certificate Program in Ontario law schools. This workshop is designed to teach students who may have just learned what "SRLs" are on October 4th, and now want to learn the evidence-based facts about the SRL phenomenon, how it is affecting all the actors in the justice system, what it means for legal practice, and what they can do to contribute to Access to Justice in Ontario. The A2J Certificate was first offered last year at Windsor Law as an extra-curricular – taught by Julie and NSRLP RAs Gurleen Gill and Lidia Imbrogno. It's back this year by popular demand, and willing to travel! If your school would like to talk to Nikki about bringing the Certificate program to your school, please email her at nikki.gershbain@utoronto.ca.